The Zone and the Shame: Narratives of Gambling Problems in Japan
Keywords:
Japan, Pachinko, Shame, stigma, help-seeking, narratives
Abstract
Japan has one of the highest rates of severe gambling problems in the world. However, the gambling forms that cause the most harm—pachinko and pachislot—are not recognized as gambling in the key legislation. They are understood as entertainment. On the basis of two group interviews with those who have experienced problems with gambling, this study explores how they have dealt with the shame, guilt, and stigma of pachinko-related gambling problems. The narrative analysis shows that the participants carry self-stigma as a result of self-reproach and others' condemnation of their behavior. Feelings of shame, guilt, and fear of being stigmatized have distinctly hindered the process of seeking help. The participants describe how their gambling, which they had attempted to limit, had led to isolation from normal life. The isolation and the failures to control the gambling increased their feelings of shame and destructive behavior. Considering the characteristics of the zone, the loss of self, and the shame, guilt and stigma of failing to control excessive pachinko gambling, it is unreasonable to place the main responsibility on the individual gambler. To reduce gambling harms in Japan and the stigma associated with pachinko and pachislot problems, these gambling forms need to be acknowledged as public health concerns and categorized as gambling in the legislation.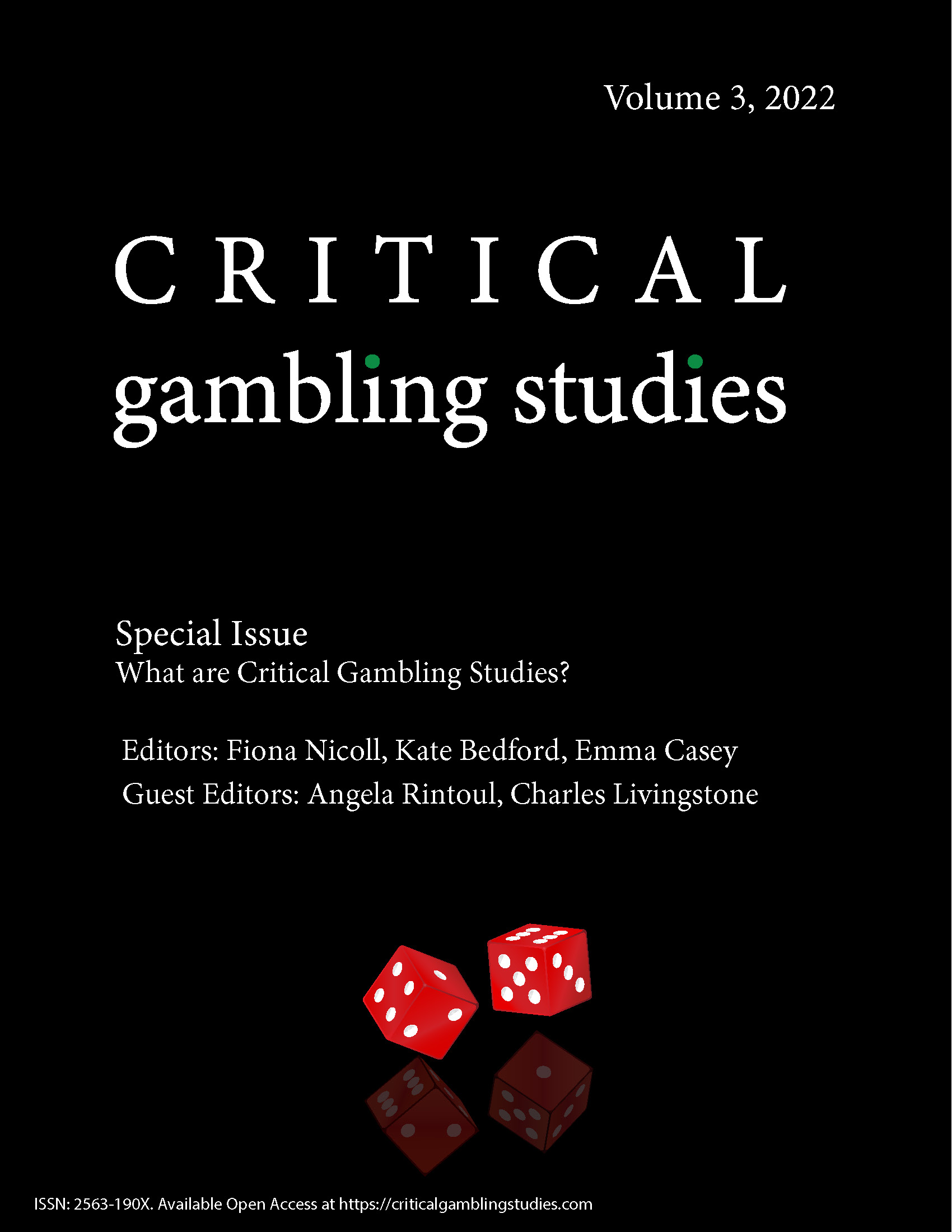 Downloads
How to Cite
Samuelsson, E., Törrönen, J., Hwang , C., & Takiguchi, N. (2022). The Zone and the Shame: Narratives of Gambling Problems in Japan . Critical Gambling Studies, 3(1), 83–95. https://doi.org/10.29173/cgs112
Section
Original Research Articles
License
Copyright (c) 2022 Eva Samuelsson, Jukka Törrönen, Chiyoung Hwang , Naoko Takiguchi
This work is licensed under a Creative Commons Attribution-NonCommercial-NoDerivatives 4.0 International License.
Authors retain copyright of their work, with first publication rights granted to Critical Gambling Studies.